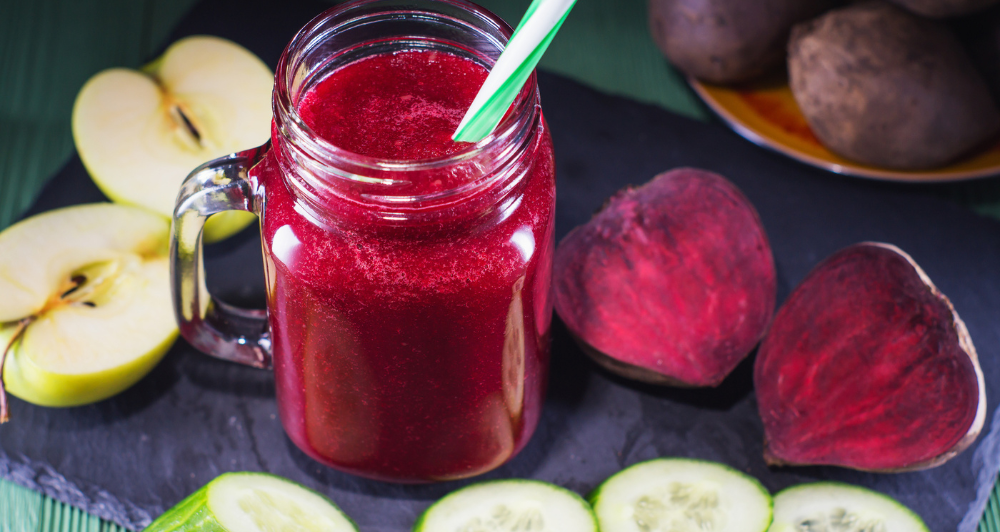 Apples, kale, beet and ginger come together so deliciously in this sweet, spicy and earthy juice. We praise this juice blend for the incredible dose of nutrients it provides. Kale delivers high levels of vitamins B and C, beta-carotene, calcium, phosphorus, folate and magnesium.
Beets help to build a strong immune system, support cardiovascular health and help to flush toxins from your system by supporting liver function.
4 green apples, cored and sliced 4
1 cucumber, quartered 1
1 cup packed chopped kale leaves 250 mL
1/4 beet, halved 1/4
1 1/4-inch (0.5 cm) piece peeled gingerroot 1
1. Using a juicer, process half each of the apples, cucumber, kale and beet, plus the ginger.
2. Following the same order, repeat with the remaining apples, kale and beet.
3. Whisk well and serve immediately.
Have you tried these tips or recipes?
Transcend, with a sweet zipping flavor that's sure to keep you bouncing.
This delicious ginger juice recipe is sweet with just enough of a spicy bite to excite your taste buds. It'll put a zip in your step.
This juice is extremely cleansing and has a pungent salty, tart, spicy flavor. It boasts quite a kick and will definitely wake up your taste buds.