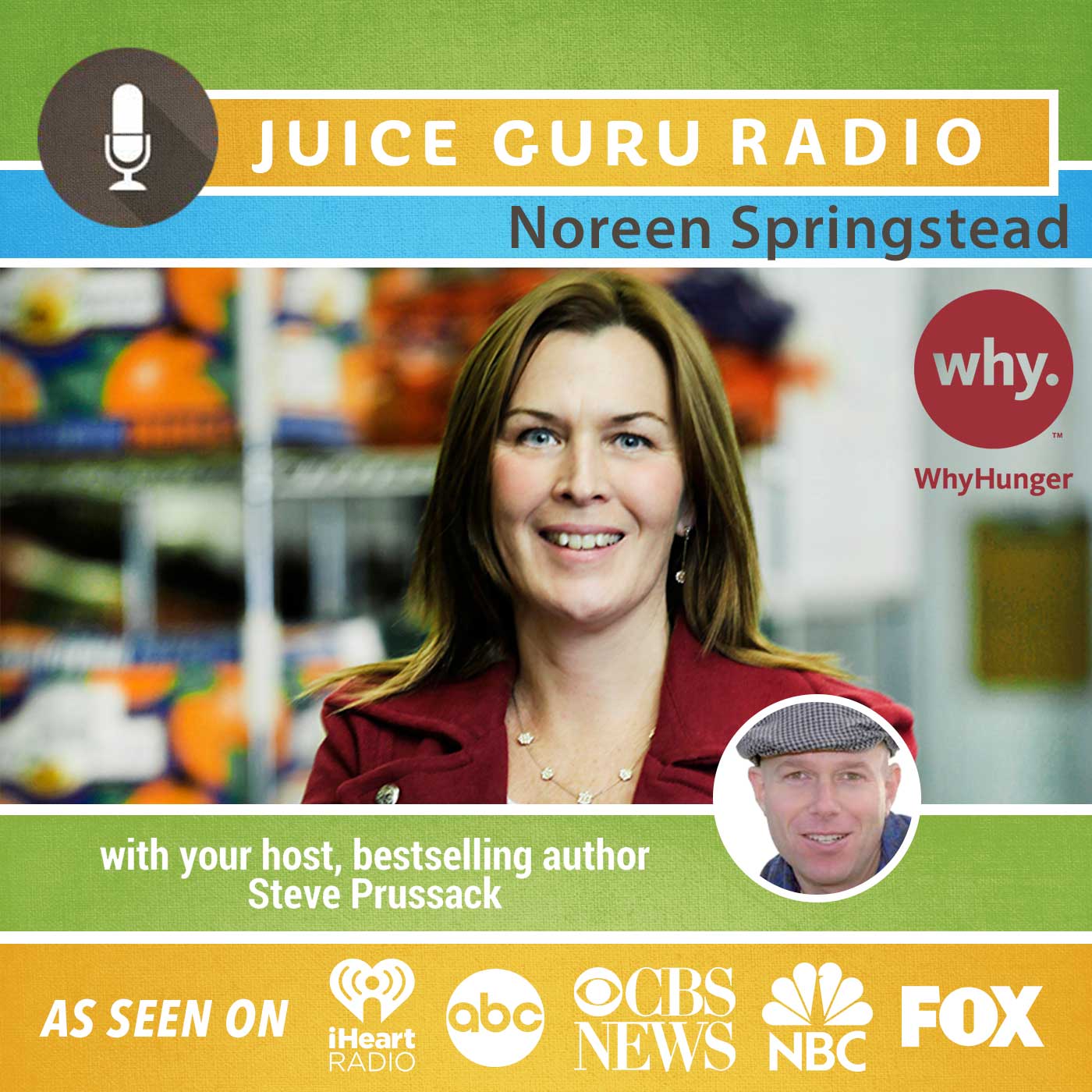 On this episode of Juice Guru Radio, Steve talked with Noreen Springstead, executive director of WhyHunger, our newest charitable partner. Highlights include: 
how Noreen's mom inspired her to follow a career path at WhyHunger
how supporting the juicing movement can support reducing hunger
Common myths about hunger and what the truth is
Ways you can get involved in addressing hunger in your communities
events and collaborations Juice Guru and WhyHunger have planned
About the guest:
Noreen Springstead has worked with WhyHunger since 1992 when she started as an administrative assistant. She's now the executive director and has spent decades traveling the world and working with government officials and celebrities to solve the hunger crisis. WhyHunger strives to build power with grassroots initiatives that nourish people and enrich communities. WhyHunger believes nutritious food is a human right and works to break down barriers of access. WhyHunger also believes in fueling community solutions rooted in social, environmental, racial, and economic justice. The charitable partnership between Juice Guru and WhyHunger will help increase awareness, raise funds, and promote involvement in the WhyHunger movement. 
Links:
Juice Guru Radio: https://juiceguru.com/podcast-shows/
Juice Guru Institute:
https://juiceguru.com
Juice Guru's Certified Juice Therapist program: https://juiceguru.com/certified-juice-therapist/
WhyHunger:
https://whyhunger.org

Read The Transcription
Announcer
(Announcer) Juice Guru Radio.
Steve Prussack
Well, we have an exciting announcement. I can't wait. I've been holding this in for so long. Juice Guru Institute has really joined forces this year with our new charitable partner, WhyHunger.
Steve Prussack
Why? Well, our missions are so aligned. At Juice Guru, we are in sync with their exact mission that 'Nutritious Food is a Human Right.' So, starting this year, a portion of all tuition to Juice Guru Institute will directly support WhyHunger. And to celebrate, we've got the executive director of WhyHunger on today's show, Noreen Springstead, coming up right after this.
Announcer
(Announcer) Discover what the magic and power of juicing can do for you. And now your host, bestselling author of 'The Complete Idiot's Guide to Juice Fasting,' Steve Prussack.
Steve Prussack
Well, welcome back to the show. I'm so excited. We've been planning this show for months. I'm so excited. We've got Noreen Springstead here. She's the executive director of WhyHunger, a 45-year-old global organization working to end hunger and advance the human right to nutritious food. Let's welcome to Juice Guru Radio right now, Noreen. 
Noreen Springstead
So good to be with you, Steve. I love this. This partnership is just so exciting and really hits at the center of who WhyHunger is, which is all about making sure access to nutritious food is the most fundamental human right. And I know that's important to you. So good to be with you.
Steve Prussack
Thank you, Noreen. I've been so excited about this. I'm going to try to contain myself. So, let's talk about you and how- because you worked your way up through the ranks to become executive director. How did it all start for you getting involved in the organization?
Noreen Springstead
I did. I think we have similar Jersey beginnings, if I recall. I live in New Jersey. I went to Rutgers University. I was a political science major. I always knew I wanted to change the world. I was really inspired by my mom. She was a nurse, and she had gone on a nursing trip as a young student to El Salvador. And she brought back these pictures. And I just thought to myself, we all need to live a life of purpose. And there are so many people around the world and right here in the US who go without. And food should be the thing that we celebrate. It feeds our bodies. It feeds our souls. 
Noreen Springstead
So with that inspiration, I started at WhyHunger as the administrative assistant at the front desk in February of 1992. And have had the incredible professional journey of kind of doing all the jobs and traveling the world and being backstage with rock stars and at the seat of government, talking to government officials about how we can make sure that no person goes hungry and that we prioritize nutritious food. So it's been a wild ride.
Steve Prussack
Yeah. And what is the truth behind hunger? Why are people in this day and age going hungry?
Noreen Springstead
I think there's a lot of myths around hunger. One of the myths is that it's a scarcity problem. That there's not enough food and there's too many people on the planet, and that just simply is not true. There's abundant food. I think, I'm sure any of your students and listeners know, when they go into the supermarket or the big-box store that- just take the cereal aisle, right?
Steve Prussack
Yeah.
Noreen Springstead
How much food is there? We did all experience during the pandemic, which what many low income people experienced, which was empty store shelves. Because the supply chain is very, very tenuous. But essentially why are people hungry? Because there are bigger root cause forces at work, including racism, economic injustice, health equity – meaning you may have a supermarket or a grocery store or corner store in your community, but it might not be serving the healthiest food.
Noreen Springstead
So then, you're taking in non-nutrient dense calories and sacrificing your health. You maybe feeding your hunger, but you're not really improving your overall wellbeing. And in addition, I would add the environmental issues associated with how we grow and produce our food. So, WhyHunger really looks at those root causes. If people who are working two jobs and are still in line at the soup kitchen, we need to ask, "Why are people hungry?"
Announcer
(Announcer) Juice Guru Radio.
Steve Prussack
What does hunger in America look like now? And I know, there's lots of changes going on.
Noreen Springstead
Yeah. So, maybe the picture before the pandemic really was about 35 million Americans who were struggling with hunger, struggling to put food on the table, having to make the difficult choice between paying their rent or their mortgage and feeding themselves or their family, parents that skip meals. Many Americans who were working, whether it be part-time work or work that just didn't pay enough and relying on food charity or government benefits. 
Noreen Springstead
So, that was always there. But what happened? We've all experienced the global pandemic and the impact of Covid-19. For most of us, I would say starting a year ago, it's about a year ago, right? I was in the Mississippi Delta, a year ago and the lockdown began. And we should probably talk about the group I was visiting because it's exciting. But coming back and living through the pandemic has been an illumination point. That the cracks of how many people are slipping through the cracks in America that are working, the pandemic has shown a light through those cracks, to say. 
Noreen Springstead
We have way too many hungry people. And we're trying to solve the problem heroically and importantly and necessarily, by giving out food. But we have to look at this a little bit differently. So what happened in the pandemic? Hunger skyrocketed. Fifty million people. Lots and lots of children because they were not in school. And I think your listeners probably saw those mile long lines at food banks and people really desperate for food. So the crisis escalated in ways that we haven't seen, probably since the Great Depression.
Steve Prussack
Right. And I mean that just- there's never been more of a need for the work that you're doing than now.
Noreen Springstead
I appreciate that. That's right, right? So hunger is like- it's very palpable. People know that a lot of people, in addition to the disease, the virus and front line workers and essential workers, I think people now see that essential workers are also farm workers and food workers and grocery workers and people in the chicken plant or in the vegetable fields, the people who pick our strawberries and our tomatoes.
Noreen Springstead
Again, it's just a big illumination point. And the work is more important than ever that we ensure the dignity of that farm worker. I know- just relate it to the Juice Guru, right? You need the berries, you need the celery, you need the avocado, you need the spinach, that healthy food system we want to all build together, which is why our partnership is so important. We can't have a farm worker who's suffering from hunger, who's the person- whose hands are at our table because they're picking the food that we eat or that we juice.
Steve Prussack
Right? That's exactly it.
Announcer
(Announcer) Juice Guru Radio.
Steve Prussack
We were looking for a long time for the right partnership for us. And this couldn't be more in alignment. A healthy meal, a healthy nutritious food in every community. And the idea of food deserts is something that people need to be more aware of. But what are we up against here?
Noreen Springstead
Oh, we're up against so much. I don't know why hunger is- we often blame the victim, the person who's suffering hunger. We don't really look at the actual problem that- people don't really think of hunger as political. But if you want to solve hunger, if we change the few key policies – wages is critical, subsidies of where our federal dollars go and the types of crops that we subsidize, things that we eat rather than corn and soybeans, which are a lot of that is either for export or for livestock feed, that we are not investing in our American farm economy, which could generate even more abundant healthy food for people.
Announcer
(Announcer) Juice Guru Radio.
Steve Prussack
Some of the things we have planned, just so everyone knows, we're planning to do an event, Fasting to Feed the World, the tentative title, but this is where we can help people get healthy with juicing, at the same time, contribute to WhyHunger's mission of bringing nutritious food to everyone. And these are some of the events that we're really looking forward to in our partnership. What about you, Noreen? What are you looking forward to in working with us?
Noreen Springstead
Well I mean, that's going to be great, right? I think that's a good start. The thing I'm most excited about is your very energized group of people. And what we say is we want to build our tribe. We want more people to feel good about their daily living and that they are contributing to a cause that you believe in and that essentially, I've dedicated my life to, and is changing the world. I've seen it firsthand in frontline communities from the Bronx to East LA to Guatemala to India.
Noreen Springstead
It's all possible. And I think we, as a nation, need to be thinking about possibility. So, I'm excited to have new friends, new supporters, people that really are prioritizing their own health and wellness. And ultimately, we want a healthy nation, right? We want every child to have access to food. Really tough during the pandemic when kids are missing school. But a child that is well-fed is better prepared to learn to grow and to thrive. A child who does not have the benefit of good nutrition is really set back for life.
Noreen Springstead
There's long term implications. So, one of the things I'm excited to talk to you about is how we prioritize making sure no child goes hungry and that access to healthy meals, especially universal school meals. Let's make that a reality.
Steve Prussack
I love that mission. And now, you guys have a lot of internal events coming every year. Can you talk about some of the initiatives you have planned for this year? The Hungerthon and some of the other- I know lots of celebrities and musicians partner with you. What have you guys got coming? 
Noreen Springstead
Yeah. You know, It's been a hard year to plan events.
Steve Prussack
Yeah that. 
Noreen Springstead
It's hard to get together. I think everyone's a little zoomed out on the virtual events space. But there is light at the end of this very long journey we've all been on, in isolation yet together. So we do some cool things, right? We were started by the artist and activist, Harry Chapin. Our roots are deep in music. We have support from Yoko Ono Lennon and Carlos Santana and Bruce Springsteen and artists of all ages and genres. So, we will be doing some more virtual concerts and events through our Artists Against Hunger and Poverty program.
Noreen Springstead
We're hoping to do Thanksgiving television special. I think, Thanksgiving is a time of year when people think about abundant food and family. And last year, we did a big concert called Play On, and it was a really fabulous televised event on CBS. So we're hopeful we'll get a chance to do that again. And you mentioned the Hungerthon, which is- we hit the radio airwaves, really. SiriusXM, and iHeart, and Entercom and so many radio stations get involved and activate locally to tell the story of hunger, to raise money. And then we create these really cool merchandise items that people can get. So hoping to check back in with you in November to share more about the Hungerthon.
Steve Prussack
Dialing back to Harry Chapin, I mean, you look at the life- and just so anyone who's not a music freak like I am but Harry Chapin, I mean, Cats in the Cradle,  Taxi, an incredible musician. But when we talk about generosity in the life that he led and forming WhyHunger and really donating everything to the organization. Isn't that the role model we've got here? 
Noreen Springstead
Exactly. Unparalleled, really. At the time in the early to mid '70s, when it wasn't really standard practice to be an artist, an advocate, an activist and a fundraiser. He was really the fundraise-in-chief. And he famously gave every other concert to the hunger cause and the founding of WhyHunger. So he really put his career and his money where his mouth was. And I think, in many ways is the model. As you said, he's the model for how many artists now set up their own foundations or do their own activism or have the causes that matter to them.
Noreen Springstead
It could be pet rescue, it could be the environment, it could be fighting cancer, it could be fighting hunger. I think it's now more very much in line with how the music community gives back. And the thing that's so inspiring about our partnership with the Juice Guru is companies can do this, too. Right?
Noreen Springstead
So, when you start building it into your brand DNA and your base of supporters recognize that- there are lots of studies that say, especially millennials, they want to know that your company is doing good. So I think, you're at the forefront of a movement to do well and do good, at the same time. And we're so grateful for that.
Steve Prussack
Yeah and that's what we teach our students. This idea that, 'How can you have more impact in your business? Create enough financial freedom where you can actually pay it forward and help?' WhyHunger- an organization like WhyHunger, which aligns with our overall mission. And that was really important to us that everyone who comes through the Juice Guru Institute understands that. And we teach them how to do this- because at the core, I think that's why we're here.
Noreen Springstead
Yeah.
Noreen Springstead
You know. We're not here to live in mansions. We're here to actually help.
Noreen Springstead
You know, those values of like, in so many ways, getting back to basics about caring about our neighbor, caring about our community, caring about our own personal health and wellness. And maybe on a more meta-level, that we really are all deeply connected. What happens to you happens to the human chain, right? There's a reaction there. And I also think, like trying to reorient our frame around abundance. We don't need to have people be poor. We actually need them to be prosperous to create more bounty for everyone.
Announcer
(Announcer) Juice Guru Radio.
Steve Prussack
So what can you do at home? I mean, first of all, you enroll in Juice Guru Institute. Your tuition is going to support WhyHunger. Some of the other programs like we have coming, the Fasting to Feed the World event, which you'll hear more about. And the other things that Noreen's talking about here. So the best thing to do is to visit the website. Right, Noreen? What's the best- to go to the WhyHunger website and check things out?
Noreen Springstead
So WhyHunger.org is the main website. And I always say, start local in your community. So, we have a service called Find Food. If you go to whyhunger.org/find-food/, if you're hungry or you have someone in your life that is hungry, you can put in your zip code and find something close to your home that will get you the help that you need. It's also a great tool for finding the community organizations fighting hunger nearest to you. And get involved, even if it's one day a month, like start experiencing and seeing the humanity of the people who are suffering.
Noreen Springstead
So I think that's probably the easiest entry point. And we'll keep educating you, we'll keep talking to you and building our awareness as part of our partnership with Juice Guru.
Steve Prussack
Yeah and I don't think I really went deep into it with you, but the idea that what you're doing at WhyHunger and supporting these grassroots organization. Can we talk a little more about that and how the funds really are distributed in that way?
Noreen Springstead
Yes. So, I can tell you a little bit about the impact that we had last year. We helped more than a million people get the food that they needed, nearest to their home. People who are facing a hunger crisis, which was a crisis like we've never seen before. We are also advancing through these farmer-to-farmer trainings, a practice called agroecology. It's sustainable farming, but it's even deeper than that. It is a community-building, political education, a formation around a set of practices that grows incredibly, healthy food and does it in a way that works in harmony with nature.
Noreen Springstead
So it's very regenerative. It's restoring nutrients into the soil. It's pulling carbon from the atmosphere. It's not using chemicals and pesticides, which is why it's very regenerative. And it's growing healthy, abundant food in communities all around the world, in the US and in other places. And we've invested a lot in advancing and basically massifying that practice so that there's abundant healthy food grown in communities everywhere. So that's really, really exciting and it's taking off. 
Noreen Springstead
In addition, we're working- there's about 60,000 agencies in the US and communities that are feeding people. We're part of a big initiative called, Closing the Hunger Gap, that is prioritizing health and wellness and looking at those other root cause approaches that I mentioned. But from the health and wellness point of view, there's been a revolution, really. Many food banks and pantries, I don't know 5,10 years ago, it was really about the pounds of food. It didn't matter if it came in the form of soda or mac and cheese. Now there's a much more discerning perspective that says, 'No, it needs to be nutritious food. We can't hand out food that is then creating diabetes, hypertension, heart disease, leading to all kinds of health problems.'
Noreen Springstead
So, it's really a game changer that many of the frontline agencies are recognizing that- just like we all are in our life, we need to eat better, so we need to provide more nutritious food. So that's the kind of impact that we're having. And very intentionally, last year, we were helping restaurant workers who were displaced. We were helping communities that are led by Black people, indigenous people, people of color, and really advancing their leadership and their food sovereignty, really, throughout communities in the US and also around the world.
Steve Prussack
Just incredible work.
Announcer
(Announcer) Juice Guru Radio.
Steve Prussack
For those listening that maybe want to get involved and maybe volunteer and work along with you guys, is there a role or do you have an opening for that, too, for volunteers? 
Noreen Springstead
We do. We have some volunteers that are helping us with our Hunger hotline. So again, if you go to whyhunger.org/find-food/, there should be a volunteer link on the page. And that's the easiest way to get involved from your home, especially while we're all still home, to help us really create this backbone of referrals, which is the 60,000 agencies across the country. And then to help callers who are calling in crisis. They need food to feed themselves or to feed their family.
Steve Prussack
 Love it. I have other plans for- what we have in mind, but I don't want to reveal too much and some things I haven't even told you, Noreen. We're just going to say-.
Noreen Springstead
I love it.
Steve Prussack
This is the first year, but we've got some big plans coming, and you guys have to stay tuned to hear more on why and how we're going to keep supporting WhyHunger. And we've got some big initiatives coming and some things in our vision board that will be coming in the future. So Noreen, any other plans for the future? Anything else that you want to touch on that we haven't hit during this interview here?
Noreen Springstead
I mean, that was an amazing teaser. You're good.
Steve Prussack
Yeah. You like that?
Noreen Springstead
Yeah, I did. No, I feel connected to this in a way. We like juicing in our household. And I think it's just a really, really healthy way forward and just genuinely excited about the partnership and all the good that it's going to do. So thank you.
Steve Prussack
Thank you. And thank you for the years of work with WhyHunger. She's Noreen Springstead again. Check out WhyHunger website. We'll have the links under today's show notes. Noreen, thank you so much for being here. I've been waiting for this show for months. I'm glad we finally got it on.
Noreen Springstead
Wonderful. Thank you, Steve. Really appreciate it.
Steve Prussack
Awesome. Steve Prussack and we'll see you next time.
Announcer
(Announcer) Thank you for listening to Juice Guru Radio. Find out more about us at juicegururadio.com. Until next time. Get your juice on.